I was born October 10, 1962. Married to a wonderful husband, Elvis, on September 26, 1992. 2 Beautiful daughters, Madeline and Annie and one great son, Eli.

I graduated in 1980 from Lee County Senior High School in Sanford, North Carolina and went on to Sandhills Community College for 2 years, and then to North Carolina State University were I graduated with a BS Degree in Recreation Resources Administration in 1987.
I have lived in NC; Moody Beach, Maine; Ocean View, NJ; Tulsa, OK; Arlington, TX; and now Barbados - which is where I'll call home for some time to come.

I mostly enjoy swimming, as I've been in and around water since I was 7mths old. I love to do crafts, sightsee, travel, read, and talk... or at least my daughter thinks I do.
Executive Cruise Consultant my current work title and I work from home selling cruises for a local cruise only agency, but I have been in the travel industry for close to 18 years and have done everything from Recreation program director to Customer Service Agent for a major USA Airline, to a Travel Consultant.

I love cruising and could talk about it 24/7.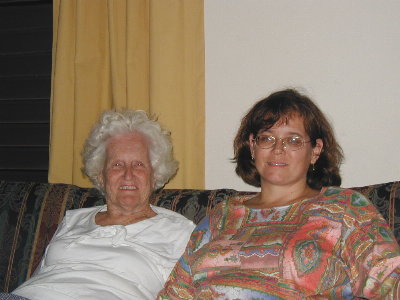 Me and my mom after on the last night of her 4 week visit. Do I look tired?? 1 day later we headed out on a 2 week cruise. Had a great time.